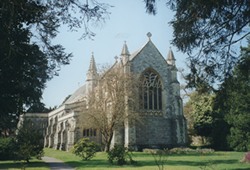 St Saviour's Church is in the centre of the village; built just over a hundred years ago.  St. Saviour's Church is situated close to the centre of the village, near the Watersplash.
Attached to the Church is the modern Church Hall which serves as an amenity for many people and accommodates our Youth Groups – Sparklers, Bright Sparks, Pathfinders and Blaze. Many other activites are held here including Dance,  Beavers, Brownies, Guides etc etc

It was the original intention of Lieut.-Commander and Mrs. E.L.Walker-Munro to build a private chapel for their residence, Rhinefield House, completed in 1890 two miles to the west of Brockenhurst – and now converted into an hotel.  However, the then Vicar persuaded the Walker-Munros that a new and larger church would be of great value to the village and the present site was chosen. The architects were Romaine-Walker and Besant of Old Bond Street, London.
St. Saviour's was started in 1895 and is a remarkable example of late Victorian Gothic. As the work progressed the expense came to exceed the original estimate so that building was stopped by 1903 and a temporary wall was  erected at the west end. 
The church was opened for worship in 1905 and was conveyed to the Winchester Diocesan Trustees in 1914 and to the Ecclesiastical Commissioners in 1922. Through the generosity of the donors' four grandsons, work on the west end was resumed in 1960 and the present structure completed in 1961.