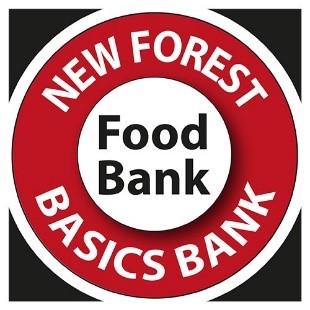 Have you ever thought what it would be like if you had no food in the house and no money to buy some?  How would you cope if you had a little money but had to choose between buying some food for your children or putting money in the electricity meter?  These are questions that many families have to face every day – and many of these families live close to us!  And with the rising inflation of food costs, fuel, and in particular energy bills (with more to come in the Autumn), things are going to become even more difficult for these families.
The New Forest Basics Bank (NFBB), an independent registered charity, deals with people like these every day, and provides food and other day-to-day essentials to many of the deprived in our locality. 
Set up in 2004 by people from churches in the area, it started work in a Portakabin behind the United Reform Church in Lymington; but as time passed it became clear that more space and more volunteers were needed to fulfil the growing demands.  Plans and fund raising were started by our own Janet Blizzard (the then Chairperson) to expand to a larger facility, which was opened in April 2020. It is now situated in the main car park in Lymington and has grown significantly since the early days; there are now over 150 volunteers (there are no paid staff) who work in 2 hour shifts throughout the opening hours of Monday-Friday, 9.00 AM – 3.00 PM.
The NFBB relies on donations of food and other day-to-day requirements from individuals, supermarkets and the national agency Fair Share, plus donations of money from individuals, which are used to purchase items to fill gaps in supplies.
Each week approximately 100 or more families are supplied with a parcel of goods, tailored to their own situation – food (taking account of their dietary and allergy needs) and personal hygiene items.  One parcel will typically consist of 6 – 14 very full shopping bags, sufficient to last a week.
People in need are referred to the NFBB by various agencies, mainly CAB, Christians Against Poverty, Social Services and Job Centres, plus a range of other sources with community links, including churches and schools.
People in Brockenhurst have always been very generous in their support for the NFBB, and in particular the NFBB want to say an enormous "THANK YOU" for all the food and money donations throughout the year, and especially at the Harvest Festival. All contributions are gratefully received and are put to good use.
Donations continue to be the life blood of the charity, and without them the valuable work of the NFBB will not be able to continue indefinitely.  In recent months the cost of providing parcels to individuals and families in need has resulted in a net outgoing from the NFBB's funds following the increase in food and energy costs, and changes in Universal Credit and furlough support.
If you would like more information, or would like to make a donation of food items, money, or your time as a volunteer (it is very rewarding), have a word with either Bill Munt (01590 612015) or Alan Wright (01590 623629).  The website basicsbank.org.uk also has more information, plus links for volunteer sign up, regular donations and much more.