Our God is marching on – Martin Luther King
I know that you are asking 'How long will it take?'
I come to say to you this afternoon, however difficult the moment, however frustrating the hour,
   it will not be long because truth pressed to the earth will rise again.
How long? Not long because no lie can live forever.
How long? Not long because you shall reap what you sow.
How long? Not long because the arc of the moral universe is long but bends towards justice …
He has sounded forth the trumpets that shall never call retreat.
He is lifting up the hearts of men before His judgement seat.
Oh be swift, my soul, to answer Him.
Be jubilant my feet.
Our God is marching on.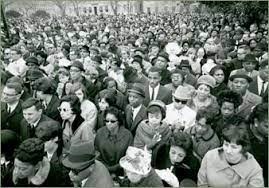 Revelation 22:1-6,17,20-21 NLT
Then the angel showed me a river with the water of life, clear as crystal, flowing from the throne of God and of the Lamb.
It flowed down the centre of the main street.
On each side of the river grew a tree of life, bearing twelve crops of fruit, with a fresh crop each month.
The leaves were used for medicine to heal the nations.
No longer will there be a curse upon anything.
For the throne of God and of the Lamb will be there, and his servants will worship him.
And they will see his face, and his name will be written on their foreheads.
And there will be no night there – no need for lamps or sun – for the Lord God will shine on them.
And they will reign forever and ever.
Then the angel said to me,
Everything you have heard and seen is trustworthy and true.
The Lord God, who inspires his prophets, has sent his angel to tell his servants what will happen soon. 
The Spirit and the bride say, Come.
Let anyone who hears this say, Come.
Let anyone who is thirsty come. Let anyone who desires drink freely from the water of life.
He who is the faithful witness to all these things says, Yes, I am coming soon!
Amen! Come, Lord Jesus!  May the grace of the Lord Jesus be with God's holy people.