Isaiah 30:15 NIV
This is what the Sovereign Lord, the Holy One of Israel, says:
In repentance and rest is your salvation,
   in quietness and trust is your strength,
   but you would have none of it.
Isaiah 30:16-17 NIV
You said, No, we will flee on horses.
Therefore you will flee!
You said, We will ride off on swift horses.
Therefore your pursuers will be swift!
A thousand will flee at the threat of one; at the threat of five you will all flee away,
  till you are left like a flagstaff on a mountaintop, like a banner on a hill.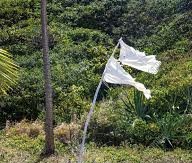 Isaiah 30:18 NIV
Yet the Lord longs to be gracious to you;
   therefore he will rise up to show you compassion.
For the Lord is a God of justice.
Blessed are all who wait for him.